Classified ad details
Social Media Influencer Talent Competition - Free events tickets
Ref. number: 46328 Updated: 16-08-2022 10:27
| | |
| --- | --- |
| | |
The MITS Talent contest is a social media influencer talent competition organized by MITS Entertainment Ltd to give people the opportunity to showcase their hidden talent and creativity to the world by contesting against others on a social media platform.
Mits Talent Competition is a social media influencer talent contest designed to give influencers the opportunity to showcase their talent through reels, comedy, singing, singing, drama, acting, dancing videos, or a combination of styles.

MITs offers talent competitions with online voting for influencer talent contests and youth talent contests for the following categories:

Singers
Models
Dancers
Musicians
Rappers
Visual Artists
Acting
Comedians
Photographers
Reels Videos



EMAIL: mitsentertainment@gmail.com

Visit here to participate : https://mitstalent.com/

Contact us :
91 70874 04022
91 76966 63046
91 76966 63046


WINNING PRIZE

First Prize: 21000/- | Second Prize: 11000/- | Third Place: 5100/-


Terms and Conditions :

Participants have to submit 30 second Reels/Videos related to any talent (singing, dancing, mimery, acting).
The Mits Entertainment jury will select the eligible participant.
50 selected participants will be provided a special gift worth Rs. 2100/- and chance to participate in the Mits Social Media Influencer Talent Competition.
The winner of the social media talent competition will be rewarded with a special prize and the chance to meet celebrities and participate in other Mits
entertainment events.




Images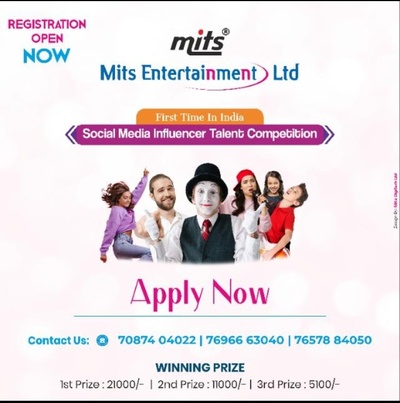 Contact information
| | |
| --- | --- |
| Full name: | mitstalent |
| Phone number: | 7087404022 |
Ask about this ad